Product Highlights
• Portable Pro Rig for Mobile Film-making
• Fits DSLR and Camcorder (1/4"-20 Screw Hole)
• Light Weight and Ergonomic Design
• Steady and Easy to Assemble
• Allows DIY Configuration in Some Special Occasions
• Material: Aluminum and Rubber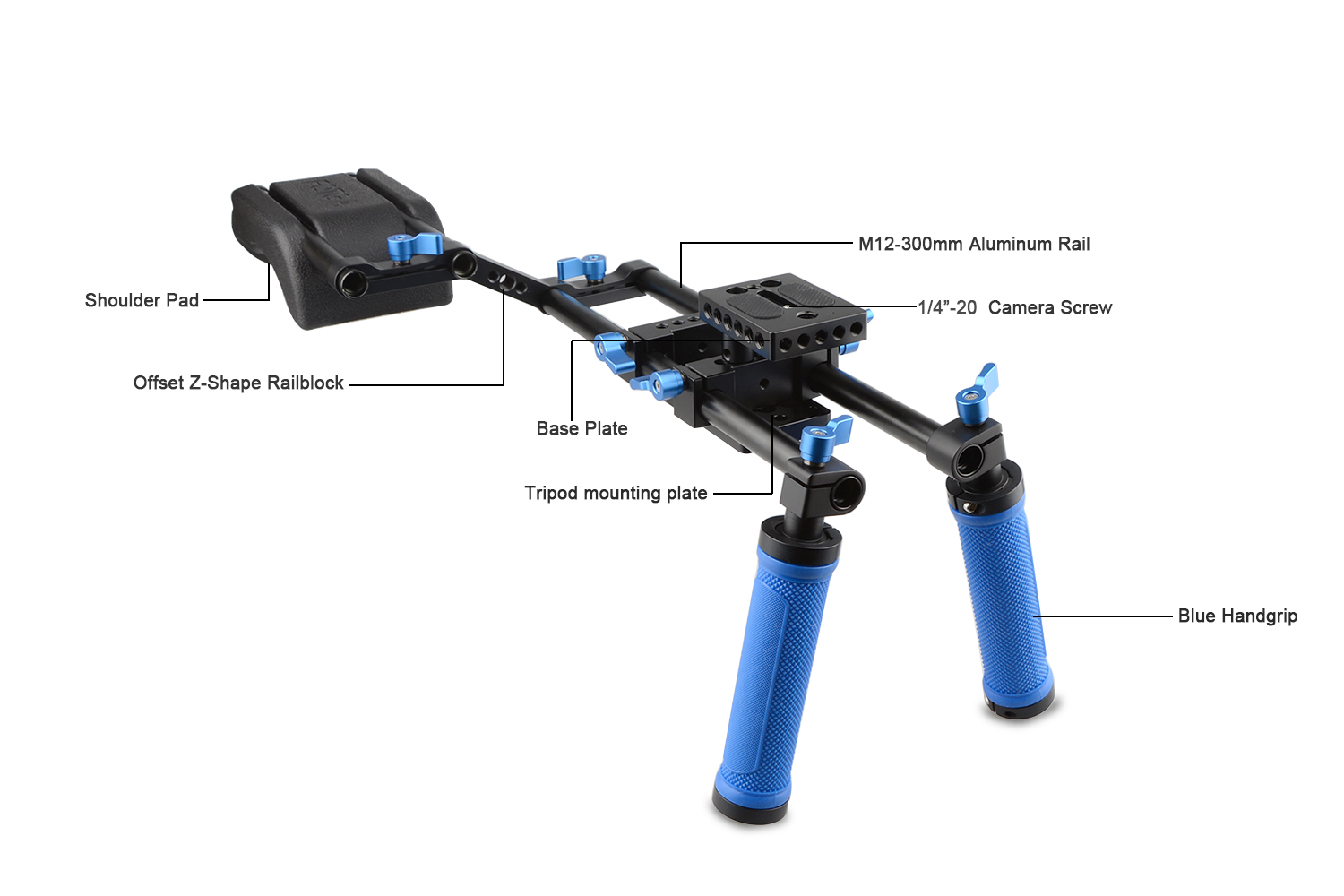 Product Description
It is a video filming platform with balance, stability and comfort.
DSLR Shoulder Pad: Made of sponge rubber,very comfortable.
Z-Shape Bracket: Standard 15mm diameter holes, 60mm spacing; Raised height helps put the LCD screen of the camera right at eye level.
Camera Base Plate with 15mm Railblock: Comes with 1/4"-20 camera mounting screw that is easy to tighten the camera.; Black rubber cushions protect the camera from scratch.
Tripod Mount Plate with 15mm Railblock: The Baseplate provides four 1/4"-20 threaded holes and three 3/8"-16 threaded holes for standard tripods.
Handle Grips: Made of aluminum,convered with rubber, antiskid safety design; Comes with a standard 15mm single rod clamp.
15mm Aluminum Rods: Made of high quality aluminum; M12 threaded on each end.
Package Included:
1 x Shoulder Pad
1 x 15mm Z-Shape Bracket
1 x Camera Base Plate
1 x Tripod Mount Plate
2 x Handle Grip
2 x 20cm Long Aluminum Alloy Rod
2 x 30cm Long Aluminum Alloy Rod
2 x Rail Block
2 x Micro Rod (20mm Long)